THREE TRENDS IN WORKPLACE CONSTRUCTION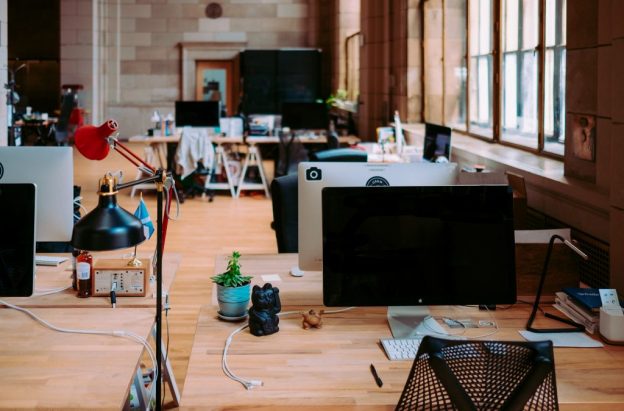 With a surge of workplace construction, renovations and additions, it's clear that many companies are making changes to their offices. Businesses are focusing on flexible, fun environments with an emphasis on community and collaboration.
Three Trends in Office Construction
Consolidation
Several companies with employees spread out across multiple locations are building, renovating, or adding on to their headquarters to consolidate their team and bring all employees to a central home base. With everyone in a centralized location, it's easier for employees to feel like part of team. Consolidation can also save businesses money because they're only paying for one lease.
Community
Gone are the days of cubicle farms. More and more businesses are downsizing individual work spaces to make room for open, collaborative and community spaces. Some companies are even going as far as removing assigned work spaces altogether. Many employers are providing more flexibility for their staff. For example, an employee might work from home for a few hours, stop in for a meeting held in a collaboration space, and end the day at a small workstation to do some "heads-down" work.
Environment
Break rooms with foosball tables, lounge areas with couches, and large patios are just a few of the amenities popping up at offices. Companies are making an effort to make the office fun for employees. In addition, more attention is also being put towards the "health" of the workplace. Businesses are increasing natural light and making sure their HVAC system is optimized for both occupant comfort and health.
While these trends are being seen across a lot of organizations, it's important to note that not all industries are the same. Each industry has its own way of operating and every business has its own culture. Open work spaces might work well for an ad agency where much of the work is collaborative and creative by nature. But, for an accounting firm where quiet, heads-down work is necessary, cubicles may still be the best option. Each organization must decide what workplace construction and design will work best for them.
The millennial workforce is also a huge driving factor in many of the changes we're seeing in workplace design and construction. For more information on what millennials want, check out the article from BISNOW .