Hoisting Trees & Posing with Shovels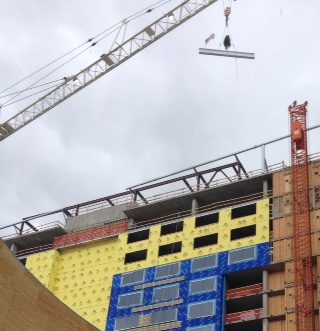 In the construction world, milestones are often accompanied by traditions and ceremonies. These rituals are commonplace among contractors, architects and building owners but to the random passerby, Christmas trees being hoisted to the top of buildings and men and women in business suits shoveling dirt could appear strange.
Groundbreaking
Groundbreaking is a traditional ceremony for the main purpose of bringing publicity and excitement to the start of a new construction project. Groundbreakings are often attended by the building owners, general contractor project manager, architecture firm executives, and the local press. As the name suggests, the purpose of a groundbreaking ceremony is to celebrate the start, or first breaking of ground, on a project.
Topping out
When buildings are being constructed, a topping out (sometimes also referred to as topping off) ceremony is held when the last beam of steel is being put in place.  This final beam is often painted white and covered in the signatures of the construction workers building the structure. The ceremony typically involves hoisting an evergreen tree and an American flag to the top of the building and having a meal for the entire crew afterward as a celebration of the project milestone.
Why the tree?
The meaning behind the evergreen tree has ancient roots. It is said that the tradition originated with the Scandinavians who celebrated the completion of a new house or building by placing a tree on top for good luck and to ward off evil spirits. In those times, entire communities worked together to build houses and barns. When the highest beam was put in place, the owner of the building would thank the community by hosting a meal for everyone.
These construction milestones are certainly worth celebrating. Building our hospitals, schools, entertainment venues, and workplaces takes a lot of time and a lot of hard work from many dedicated tradesmen and tradeswomen.
SOURCES:
https://www.linkedin.com/pulse/20141106224320-128875744-what-do-you-know-about-the-tradition-of-topping-out