Staying Cool In Construction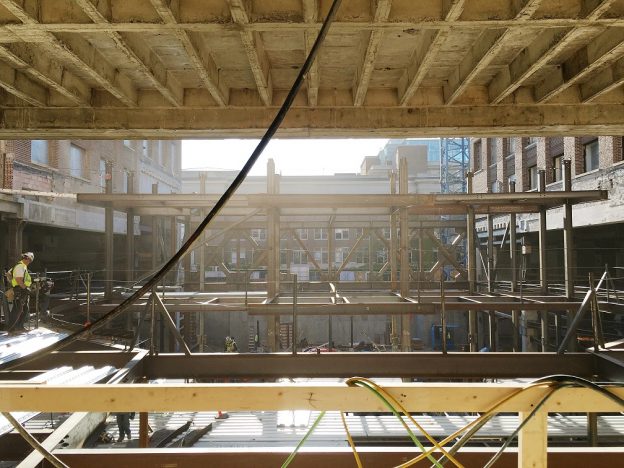 Staying cool on construction sites in the summer months can be difficult. Prolonged exposure to the heat can lead to heat stress and illness if proper safety precautions are not taken. Heat illnesses can include anything from a small heat rash to something as serious as a heat stroke. The key to avoiding heat illnesses is recognizing the risks and symptoms, and taking the necessary preventative measures.
The Occupational Safety and Health Administration (OSHA) provides a great "Quick Card" to help workers and employers alike become informed on how to best prevent against heat stress and heat related illnesses. Below are the top symptoms to look out for and the preventative measures that can be taken to keep workers safe during the summer season.
Primary symptoms of heat illness include:
Headaches
Confusion or irritability
Weakness, dizziness or fainting
Extreme thirst
Nausea or vomiting
What can workers do to prevent heat illness?
It's important for each employee to take responsibility for his or her own safety. Knowing the symptoms of heat illnesses allow employees to monitor their own health, and the health of their fellow coworkers on the job site. Preventative tips include:
Drinking plenty of water. They key is to drink water before you become thirsty and continue drinking water at 15-minute increments.
Avoiding caffeine. When the temperature is hot, stay away from caffeinated beverages like coffee or pop.
Wearing the right clothing. Clothing that is lightweight, light in color and loose in fit is the best option if you're going to be exposed to the sun and high temperatures.
What can employers do to prevent heat illness for employees?
Training. Proper safety training on the hazards and risks associated with heat stress and illness should be conducted with employees.
Hydrate the team. It's important to provide adequate amounts of water and encourage workers to consume a minimum of one pint per hour.
Schedule appropriately. Add frequent water breaks to the standard work schedule and locate them in the shade or air conditioning whenever possible.
Monitor. Check in with employees throughout their shifts to make sure they're not exhibiting any symptoms of heat illness.
Consider cooling clothing. There are protective, cooling products out on the market that can help keep employees cool on the job.