UNRAVELING HIGH VISIBILITY CLOTHING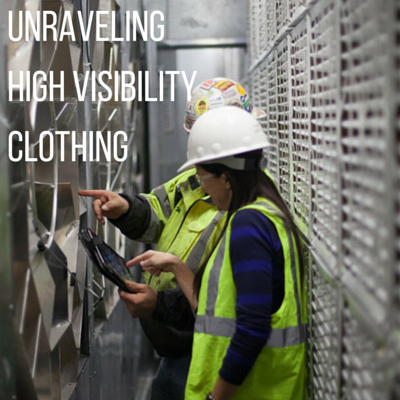 High visibility safety apparel isn't black and white (no pun intended). The fluorescent yellow-green and orange-red clothing is not "one size fits all" in terms of Personal Protective Equipment (PPE) requirements. There are standards in place that differ depending on the work environment.
STITCHING TOGETHER THE STANDARD
The American National Standards Institute (ANSI) and the International Safety Equipment Association (ISEA) have established the standard for high visibility apparel. The standard involves three garment classes, multiple colors and varying amounts of "retroreflective tape."
The ANSI/ISEA standard which is broken down in this High Visibility Clothing Brochure from www.workzonesafety.org  separates out high visibility apparel into three classes:
Class 1 – used in instances where work is done with plenty of space between employee and moving vehicles. Vehicle and/or equipment speeds are less than 25 mph for Class 1.
Class 2 – used for work where employee's attention may not be on traffic, where the background is complex, or where equipment and/or vehicles exceed 25 mph.
Class 3 – used in instances where employees are working in low visibility conditions or near high speed traffic or where equipment is being operated. Class 3 garments make the employee visible at a "minimum of 1,280 feet."
Each class has its own requirements for the amount of background material and retroreflective material. The brochure, created by the American Road & Transportation Builders Association, also notes that ANSI/ISEA 107 requires 360° visibility which means the wearer must be visible from all sides.
CHECK THE LABEL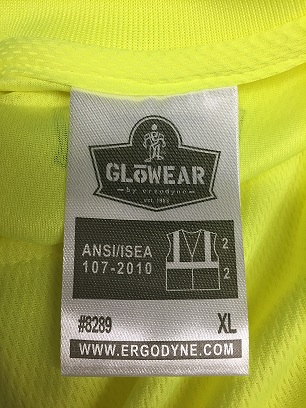 High visibility clothing that meets ANSI/ISEA 107 standards will include the following:
Class
Information about the standards and compliance
Care instructions
WEAR, TEAR, AND REPLACE
Over time, high visibility vests, jackets and shirts become worn out and dirty. As colors fade and retroreflective tape becomes worn out, it's important to replace high visibility gear to ensure employees are wearing apparel that still meets the standard.