The Benefits of Virtual Building Systems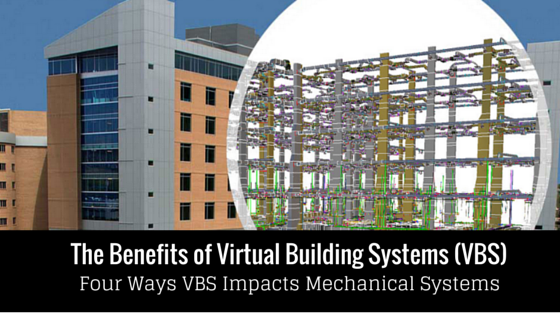 Four Ways Virtual Building Systems Impact Mechanical Systems
Utilizing Virtual Building Systems (VBS) in the pre-construction phase has become a leading best practice in the mechanical systems industry. Virtual Building Systems, made possible through 3D design software, allow a building's mechanical systems to be seen before construction even begins. This pre-construction visibility has positively impacted the HVAC and plumbing construction sector in the following four ways:
Detection of issues before construction begins. With Virtual Building Systems, it's easy to identify and respond to any potential issues. Changes can easily and efficiently be made prior to the start of construction. This eliminates the costs associated with rework and ensures a high quality end product.
Eliminates trade space conflicts during installation. The ability to pre-plan and coordinate timing allows each trade to easily install its portion of the system efficiently and correctly. This promotes installation productivity and job site safety for the crew.
High levels of confidence and accuracy. Virtual Building Systems allow for the high levels of accuracy and confidence needed to prefabricate. The ability to prefabricate a building's systems saves significant labor time and reduces the amount of wasted materials.
Remain within budget and on schedule. With digital plans, accuracy is increased making it easier to determine, and stick to, a schedule and within a customer's budget.
In essence, Virtual Building Systems allow companies to see the end product of a project before they actually build it. This saves time and money, ensures customer satisfaction, and makes for a streamlined and safe installation for the crew.
For information regarding Virtual Building Systems (VBS), click here.