Understanding Energy Recovery: Part Two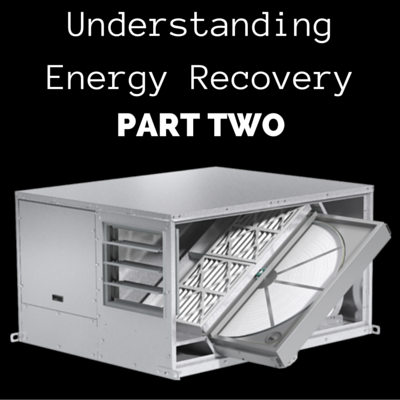 Choosing the Right  Energy Recovery Equipment for Your Facility
At the close of the part one of this two part blog series on energy recovery, we discussed the trends impacting energy recovery in the industry. More specifically, we discussed the growing importance of energy codes and standards. ASHRAE 90.1 standards prescribe and mandate when energy recovery should be installed and used. It's important to understand the different energy recovery options to select the right technology for your specific facility application.
Greenheck provides a great breakdown of the three most popular Energy Recovery Technologies:
Total Energy Wheel. Known as the most efficient energy recovery product, the total energy wheel is a polymer, segmented wheel with a total effectiveness up to 80 percent. The total energy wheel is capable of transferring both sensible and latent energy. The low footprint impact of the polymer energy wheel makes it a great choice for buildings where the airflow is high (above 2,500 cfm). For instance, office buildings, hotels, schools, and locker rooms are all applications where you might see the total energy wheel being used. There are also aluminum wheels on the market that include a mechanically bonded desiccant for moisture transfer.  Performance is similar to the polymer wheel, and the type of wheel used is usually up to the design professional or owner preference.
Total Energy Core. The total energy core, while similar to the total energy wheel, has a total effectiveness of 60 percent. Another difference is that the total energy core has no moving parts making it a popular choice in low airflow applications. Minimal cross leakage makes it a great solution for usage in bathroom exhaust settings and in applications below 2,500cfm.
Sensible Aluminum Plate. The sensible aluminum plate transfers only sensible energy giving it the lowest total effectiveness (30 percent) among the three technologies mentioned in this list. The sensible aluminum plate is capable of being used in light industrial as well as commercial and institutional comfort applications but is often used is dry regions like those found in the Southwest.
For more information on the different Energy Recovery Ventilators on the market, this Greenheck Brochure is an excellent resource.